ShackledCraft prison themed Minecraft server takes pride in having a monetization scheme that is either very modest or completely free of pay-to-win elements. The use of any and all of the resources, such as the server, its associated mods and plugins, and even the website itself, is completely free. Donations are the only source of money, and none of our servers or domain names are ever offered for sale to outside parties.
The ShackledCraft server is now hosted in the United States, where it has a fantastic connection because to the location. Anyone who wishes to play a challenging prison game with other players will find it to be the ideal option. Over a thousand people are currently logged in at any given moment, making it one of the busiest Minecraft servers on the internet. This server has been ranked highly among its peers.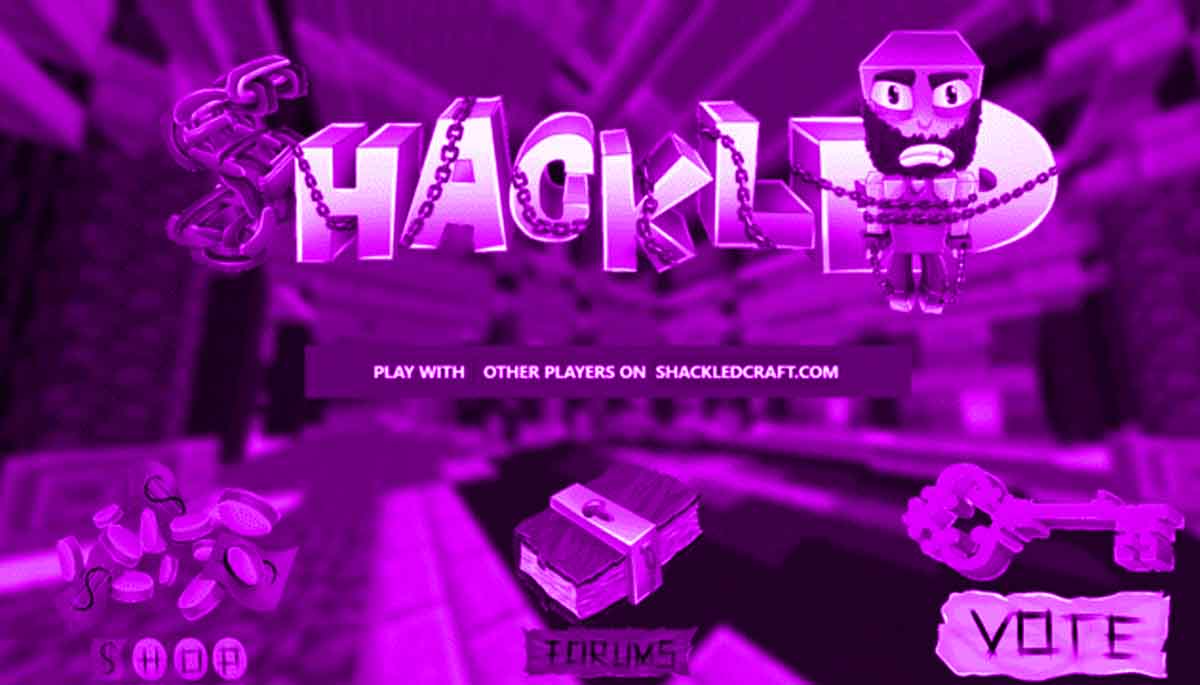 Characteristics of the Shackled
The following is a list of the primary capabilities of the Shackled Craft server:
A robust incarceration system that provides varying degrees of safety to accommodate your specific requirements.
There is a wide variety of housing options available within prisons, including solitary confinement cells, regular jail cells, and more.
The capacity to establish one's own policies and guidelines for detainees and prisoners.
A thriving economy that enables inmates to buy and sell products and services within the confines of the jail.
A verdant and exotic setting that adds an additional element of immersion to the game.
Administrators who are always willing to assist users and are known for their friendliness and helpfulness.
A thriving community that is continually on the lookout for new members to join in on the action and the good times.
The login server for ShackledCraft may be accessed at the following IP address: login1.shackledcraft.com. Shackled, LLC is the owner of this IP address and the company that operates it. As soon as your connection to the server has been successfully established, you will be immediately logged in and assigned to the appropriate holding cell.
You need look no further than ShackledCraft if you are searching for a Minecraft server that provides an excellent simulation of life in jail.
Different Game Modes
It has numerous distinct game modes in addition to the vanilla mode, each of which adds an additional layer of immersion and excitement to the overall experience of playing the game.
These are the following:
Prison Break – A prisoner's uprising has occurred, and you are tasked with helping to restore order within the facility by administering punishment to those inmates who have opposed authorities.
You are an inmate at a facility, and you are a member of a group of other inmates who have been conspiring to get out of the facility. Will you be able to thwart their scheme before it's too late?
The ultimate fight to the death: the battle royale! fighting against other gangs inside the prison in order to acquire control of the institution. Who will emerge as the champion in the end?
In the ShackledCraft Forums, you can compete against other players – It has a basic game mode, as well as player versus player (PvP) gameplay in the form of Battle Royale and Escapes, in addition to the standard game format. This gives you the opportunity to compete against other players online in a competition to determine who will emerge as the winner.
Is there a fee for using ShackledCraft?
Not at all; this is a free public server. Every participant can participate for free, and there are no advertisements or in-app purchases available.
Why Should You Go with ShackledCraft?
Players chose ShackledCraft as their go-to prison server of choice for Minecraft for a number of different reasons.
To begin, the variety of game modes is astoundingly extensive, and there is something for each and every player to like among them. Second, the community that exists on this server is quite warm and inviting, making it simple to make new friends and take part in the activities that are offered.
And finally, the level of entertainment provided by the gameplay is unparalleled; you'll never find yourself bored while playing ShackledCraft.
Is it Safe to Use ShackledCraft?
Yes, it is a trustworthy and protected server that provides a high-quality gaming experience with a high degree of immersion. If you have any questions or run into any difficulties while playing the game, our support team is always standing by to assist you.
Are there advertisements that appear on ShackledCraft?
On the contrary, there are neither advertisements nor in-game purchases available in ShackledCraft. Everyone participates in an experience of the same calibre, free from interruptions of any kind.
What is the maximum number of players that can participate in ShackledCraft?
At the moment, ShackledCraft can accommodate a maximum of fifty players. As we continue to expand our business and make enhancements to our server, we want to raise this restriction at some point in the not too distant future.
In addition to that, the ShackledCraft platform allows you to set up your very own personal server. Because of this, you are able to adjust the settings and features of your server, which makes it ideal for being customized to meet the requirements of your business.
Norms applicable to Shackledcrafts
While you are participating in activities on ShackledCraft, we ask that you comply by the following rules:
There will be no disrupting or harmful behavior allowed.
Do not engage in combat with, cause injury to, or harass other players.
When you're out exploring, make sure to use your head and avoid going into any restricted or hazardous places.
Do not use excessive words or vulgar gestures
Please have proper courtesy for the game environment and the property.
What exactly is the ShackledCraft Forums?
During your time spent playing the game, the Shackledcraft Forums are an excellent location to visit in order to obtain assistance and knowledge. You are able to communicate with others who are also enjoying ShackledCraft by asking questions, providing feedback, and connecting with them.
Is there a support team that I can get in touch with?
Yes, Shackledcraft does have a staff member who is solely devoted to assisting players with any queries or problems that may arise while they are participating in the game and is available around the clock.
In addition, you can get in touch with us using our Support Ticket system or by sending a private message to a member of our team while you're playing the game.
Minecraft version
At this time, ShackledCraft is compatible with Minecraft versions 1.8.8 and beyond. In the future, when more versions of the game become available, we intend to provide support for those versions as well.
Please visit the ShackledCraft website or the ShackledCraft Discord for the most recent information on which versions of the game are supported.
Donations
We would be very appreciative if you could make a donation to help support the development of ShackledCraft if you are interested in doing so. Donating is simple when you use one of the platforms that we support, such as PayPal or gift cards from the ad shop.
Competition During the Summer Seasons Base Base
At this very moment, ShackledCraft is hosting our Summer Season's Base Competition. This competition will continue through the 31st of August, and it is accessible to any and all players who have a ShackledCraft account. The objective of the competition is to create the strongest possible foundation, and the more votes you acquire, the higher your chances are of taking home the trophy.
In ShackledCraft, can I use the textures or models I've created?
In ShackledCraft, you are not restricted in any way regarding the models or textures that you utilise. On the other hand, we kindly request that you adhere to our principles about the infringement of copyrights and unsuitable content.
In addition, if you come across any infractions while you are playing the game, please get in touch with us using our Support Ticket system or by sending a message to one of our staff members while you are actually playing the game.
Final Remarks
We would like to thank you for taking the time to read this tutorial, and we sincerely hope that it has assisted you in better comprehending many aspects of ShackledCraft. Please do not be reluctant to get in touch with us if you have any concerns or questions that have not been addressed in this article.